Design Considerations
General Design Considerations
Before you begin any bleacher project, you should consider what your ultimate bleacher site offers you in space and location.
Consider the following:
What is your preferred seating capacity?

What is your available length? Available depth?

Are there any pre-installed obstacles to consider? Light poles, press boxes, dugouts, utility/out buildings, etc.?
Project Specific Things to Consider
As with any construction, you will need to determine how best to install your bleacher and bleacher amenities.
Do you know your local and/or state building and fire codes?

Have you planned to offer handicap seating and ramps?

Have you included a commons or refreshment area?

How about seating around the refreshment area?

How will the public restrooms interact with the bleacher placement?

How will you include handicap restrooms in the plan?

How will you want the bleacher to anchor (required on most all bleachers)? Fixed concrete footings, concrete floating slab, portable sections?

Who will install your bleacher system? Professional Installer, Booster Club, Local Contractor, Other
Estimated Seat Count
For estimation purposes only and may differ depending upon aisle, ADA, and additional variables.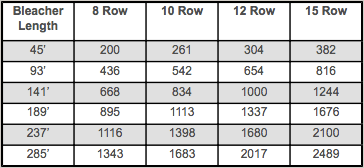 Additional Resources
Architectural Specifications PDF
Replank Retrofit Takeoff Sketch Template
See footer of website for additional terms.